Dresses
Updated 7 January 2020

Antique Beast Night Rain Rose OP
A Christmas gift from my husband, my first piece by Antique Beast. It's gorgeous, though I think I'll take it to the tailor next time I'm in America, as the measurements are a liiitttle bit off.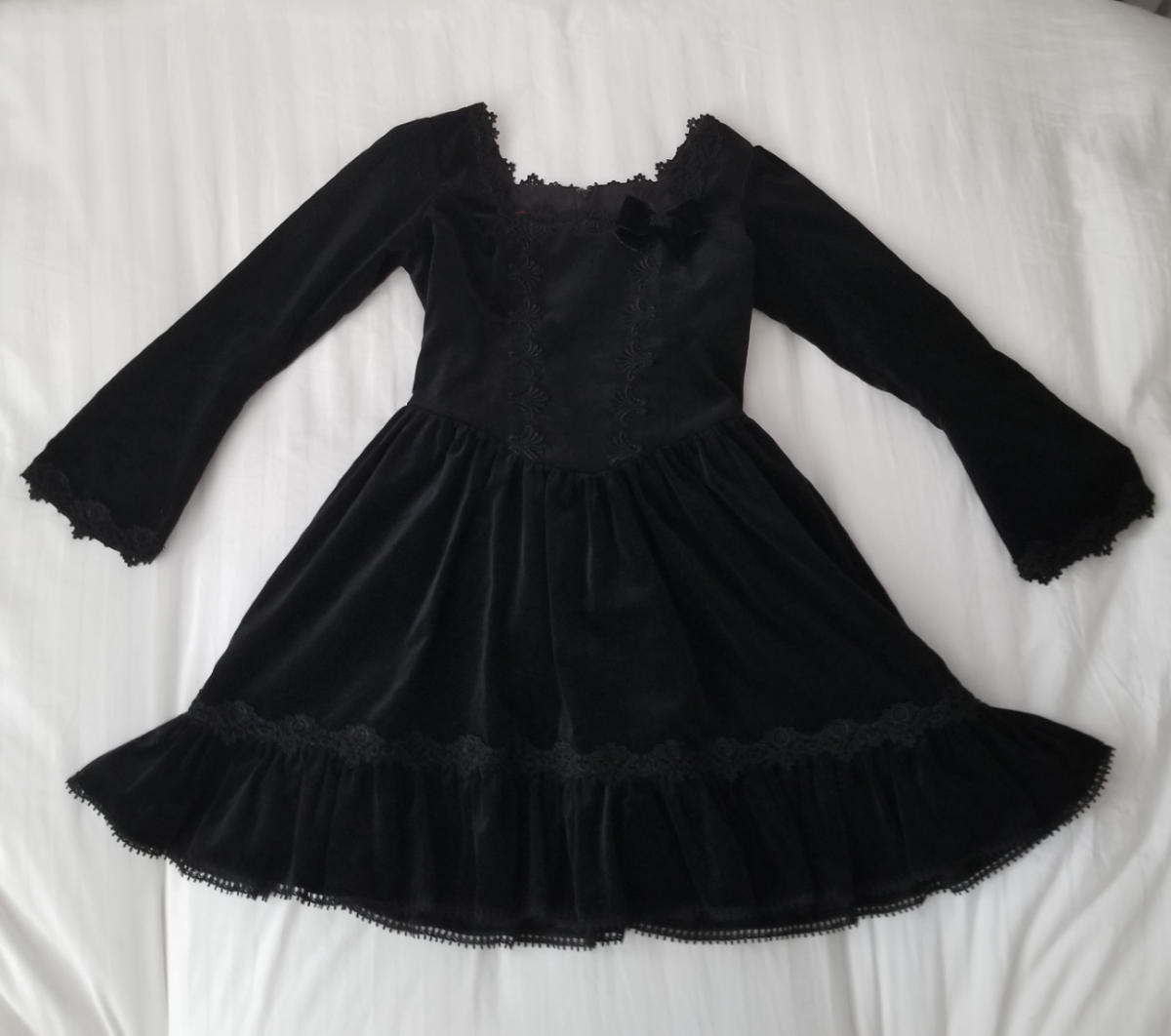 Elegy Lilith OP
I try and keep only pieces that I love in my wardrobe, so sometimes it's hard to say which one is my favorite, because I love them all! But this dress is SO pretty, it's very closet to my idea of a perfect Gothic princess OP.
Moi-même-Moitié Cross OP
I feel like a vampire princess in this dress. It's so light and comfortable.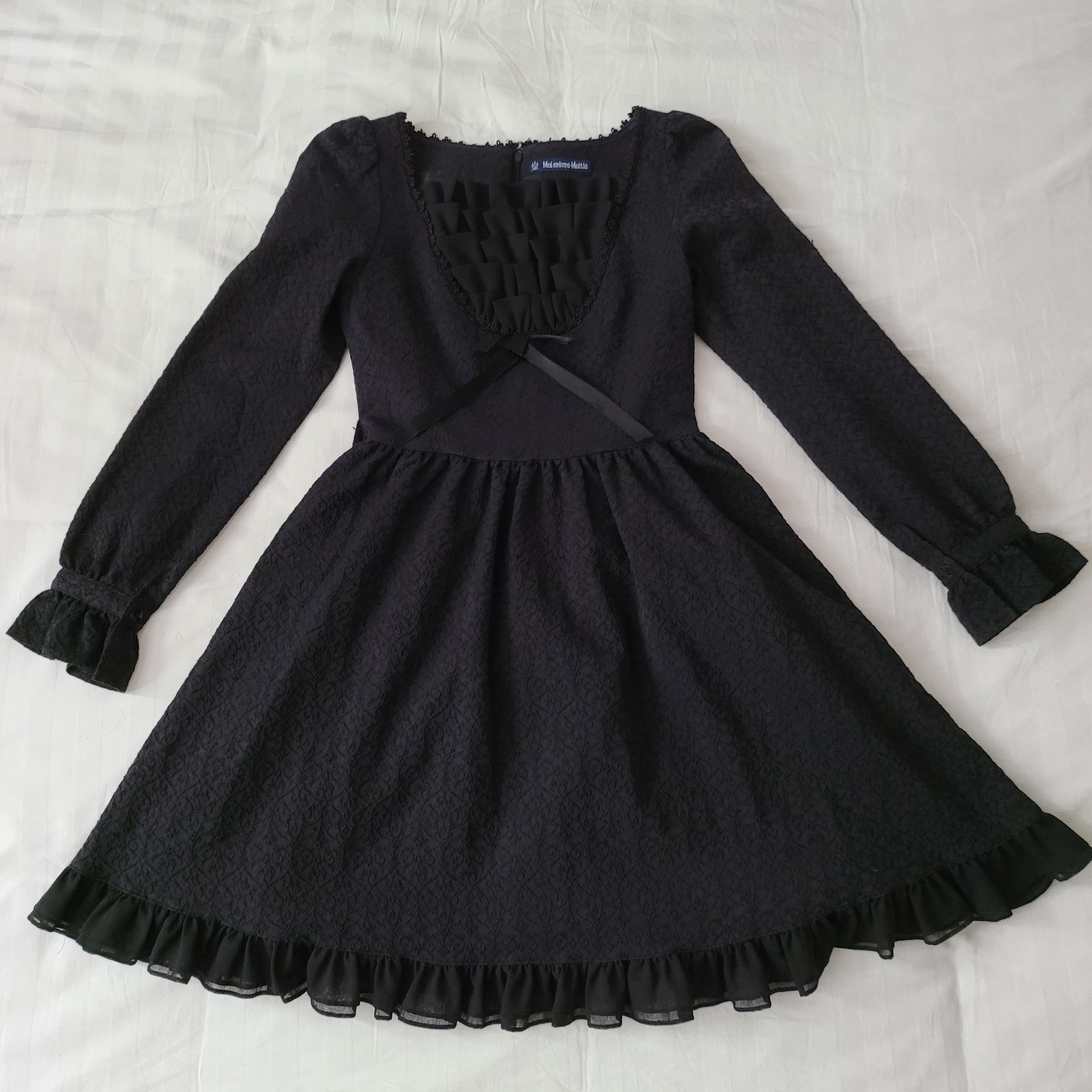 Moi-même-Moitié Sleeping Garden Shirring OP - Short - Black
This is much lighter/more delicate than it looks like in photos! It's a beautiful and very comfortable dress, though.
Moi-même-Moitié Coffin Lace Ribbon JSK
Simple but very beautiful. I think the fabric feels super nice and comfy to the touch, and really enjoy wearing this dress.
Sheglit Hélène Frill JSK
This dress was on my wishlist from the moment I saw it - it's the perfect elegant but understated gothic lolita equivilant of a LBD. The fabric shimmers slightly, and the velvet-lined panels are covered in lace that's hard to see in the picture.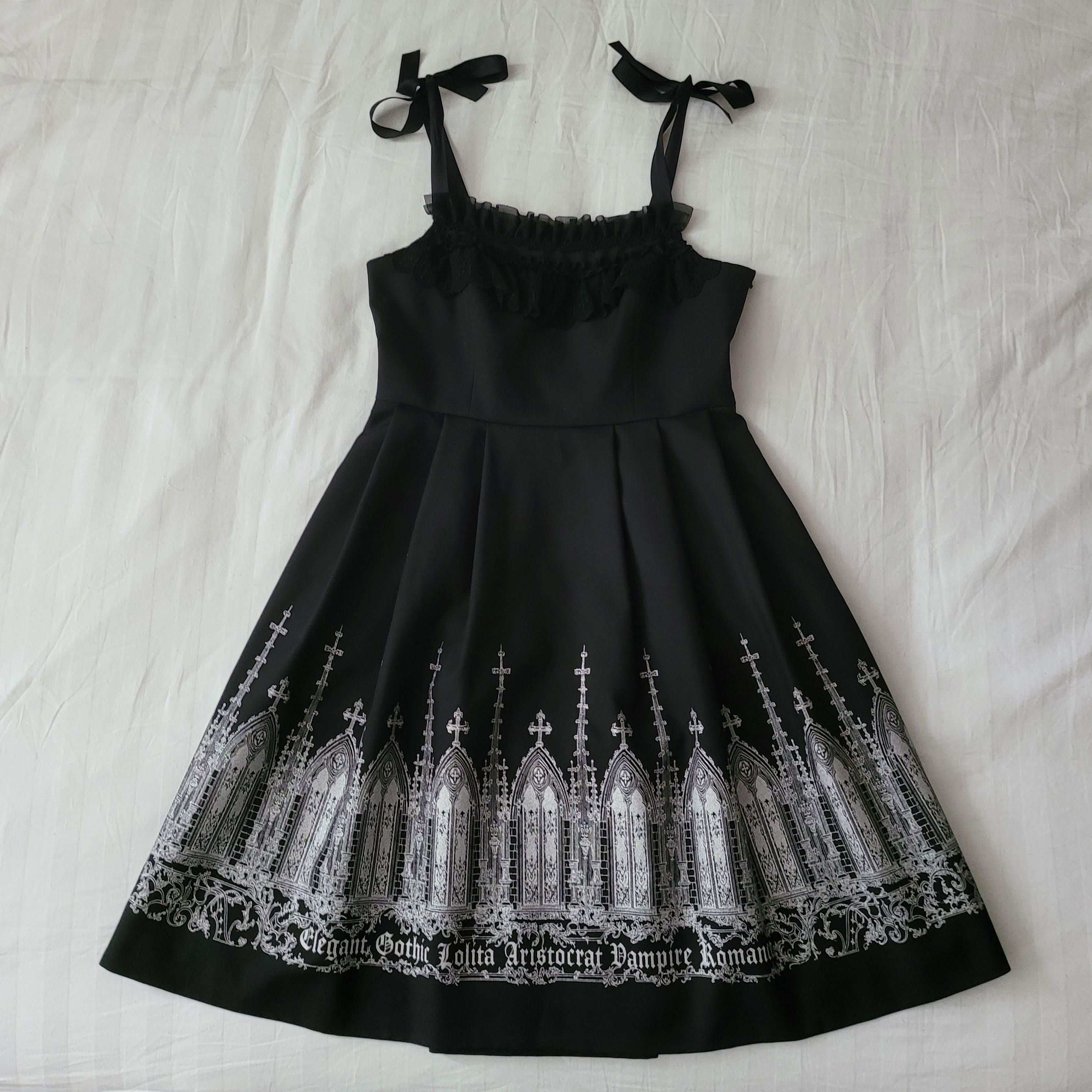 Alice and the Pirates Vampire Forest Carmilla JSK - Black
My second AatP vampire print! It's a very comfortable dress, and I love how thick and soft the cotton is. The lace is also thick cotton. It comes with a waist bow, but the person I bought it from listed it as in 'like new' condition without mentioning that it was missing the waist bow. So I had to get a partial refund to cover buying a new ribbon to use as a waist tie.
Alice and the Pirates Vampire Forest Carmilla JSK - Red
Unfortunately, this one arrived with some bleeding already present that the seller didn't notice or disclose, which makes it the second Vampire Forest JSK sold to me with undisclosed problems.
Alice and the Pirates Vampire Nocturne JSK I - Black
This became one of my top wishlist dresses as soon as I saw it. I'm really happy to have found it in my preferred cut - I originally had the JSK II cut, but sold it once this one popped up.
Alice and the Pirates Vampire Nocturne JSK II - Bordeaux
...and in red!
Krad Lanrete Transilvanian Moonlight JSK I
I cannot understate how much I love this dress. It was my first 100% cotton dress, and helped me understand why some people are so partial to them. The print and colors are gorgeous, crisp, and vivid - I also noticed it has a lot of the same (or very similar) scenes on it that AatP vampire dresses have.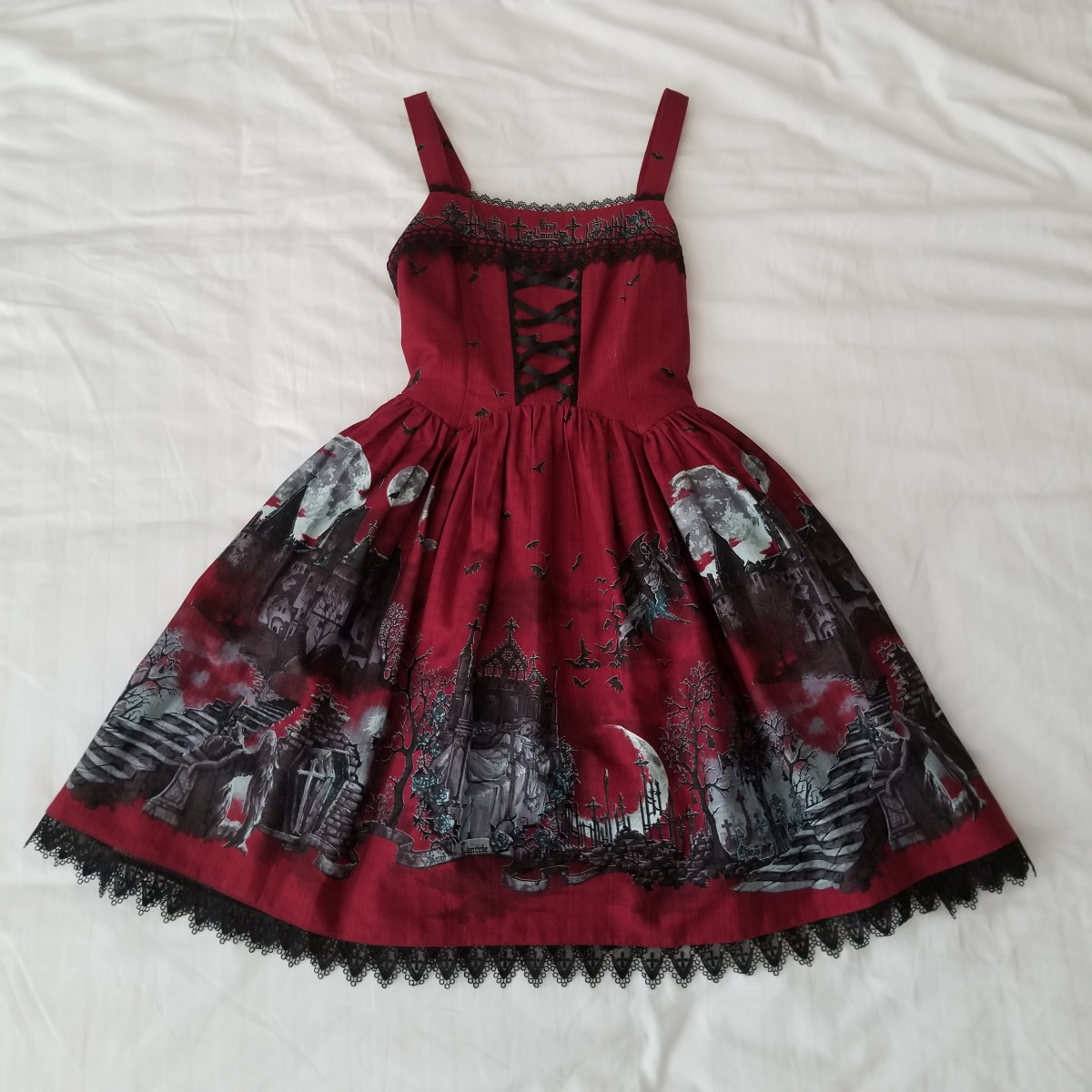 Alice and the Pirates Vampire Prelude JSK
MY DREAM DRESS! I remember falling asleep many nights to thoughts of this dress. I think this is one of the most beautiful, romantic and gothic dresses in lolita. My husband gifted it to me for my 27th birthday, and I am so happy to have it.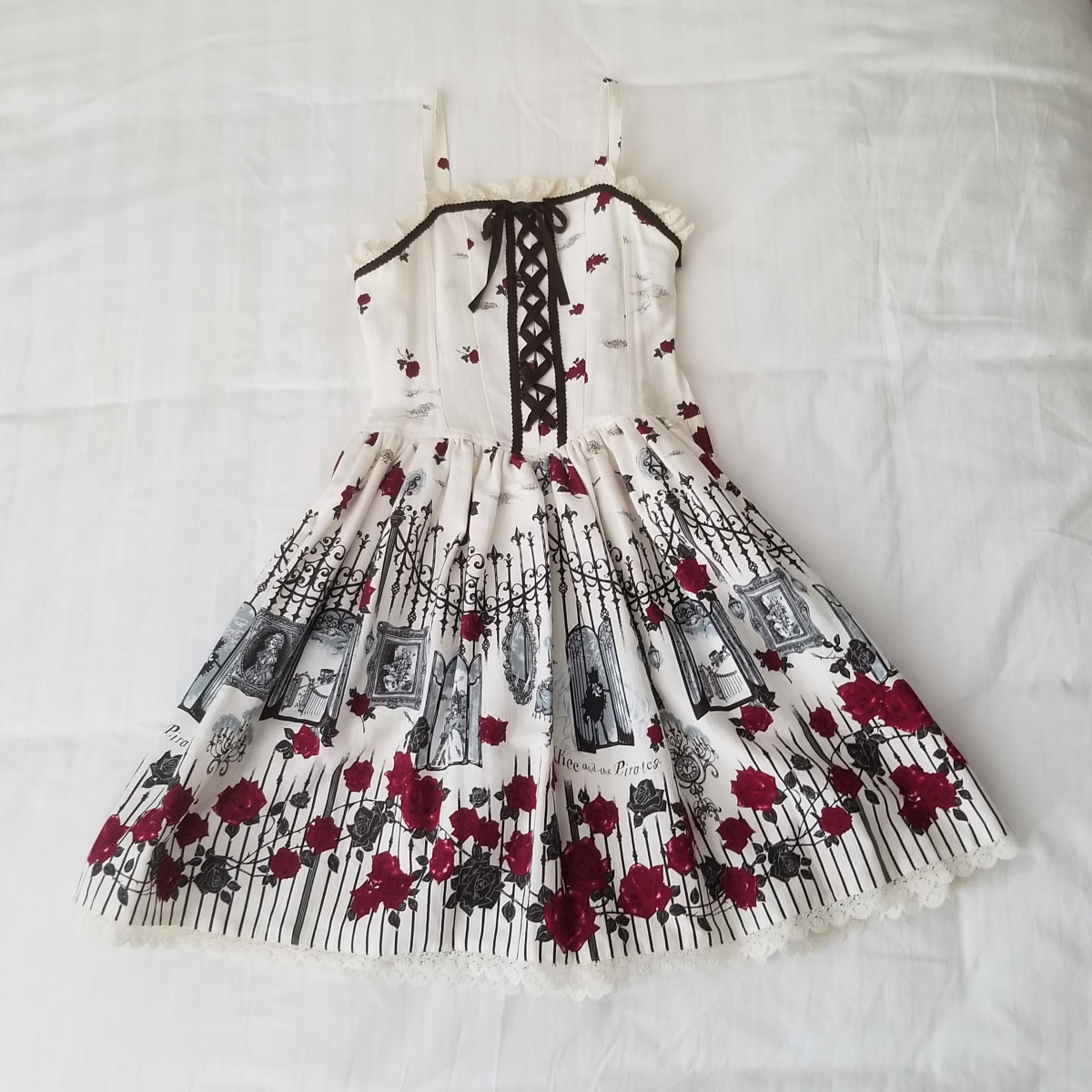 Moi-même-Moitié Rose Print JSK (2010)
A gorgeous but impulsive purchase...
Sheglit Chelsea JSK
I wanted it from the moment I saw it - I don't know why. It was just a really lovely example of a blue plaid, perfect for wearing casually and dressing up. It's super good quality.
Moi-même-Moitié Lace Print JSK
I think this dress is so beautiful - just a perfect encapsulation of how Elegant Gothic Lolita in the original sense isn't just black and blue.
Victorian Maiden Noble Queen JSk (2014)
I love the faded, romantic elegance. Victorian Maiden makes a lot of beautiful dresses, and I am hoping to obtain more of them in 2021.